Satoen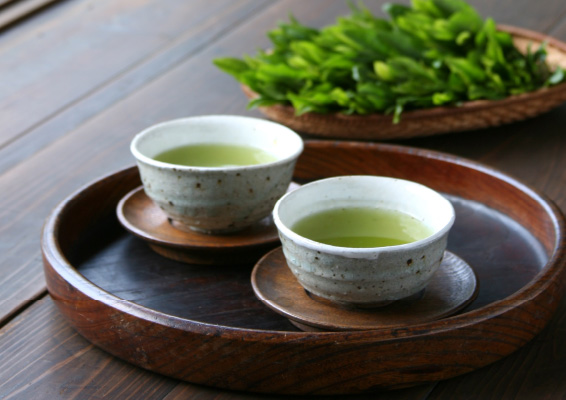 【高品質な静岡茶】
佐藤園は70年以上もの間、その製法を守り続けています。佐藤園は静岡県に自社の茶園と生産工場を持っています。主に一番摘みの茶葉を使用しています。
【High Quality Shizuoka Tea】
Satoen has been maintaining its production methods for over 70 years.
Satoen has its own tea garden and production plant in Shizuoka Prefecture.
We mainly use the first plucked tea leaves.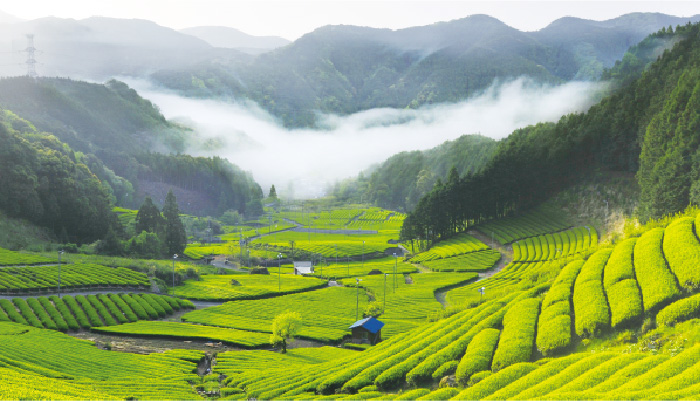 佐藤園はお茶の栽培に最適な環境に位置しています。標高の高い場所にあります。朝晩の温度差も大きく、霧の多い気候できれいな川の水にもアクセスでき、栽培から商品化を含めた最終加工まで一貫した体制をとっています。栽培されたお茶は、園内から生茶工場に運ばれ、仕上げ工場で加工され、袋詰めされて出荷できます。新鮮なお茶をお届けできます。
Satoen is located in an ideal environment for tea cultivation. It is located at a high altitude. With a large temperature difference between morning and evening, and access to clean river water in a foggy climate, we have an integrated system from cultivation to final processing, including commercialization. The cultivated tea is transported from the garden to the fresh tea factory, where it is processed in the finishing factory and bagged for shipment. We are able to deliver the freshest tea to you.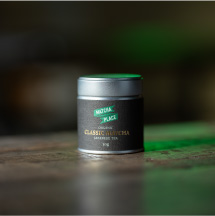 店舗で購⼊できる抹茶ラテ
Sencha, match latte, and various types of tea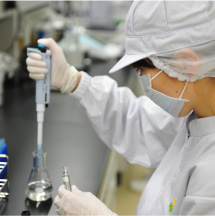 お茶をはじめとするさまざまな⾷材の可能性を探求
Exploring the potential of tea and other ingredients


Bizenya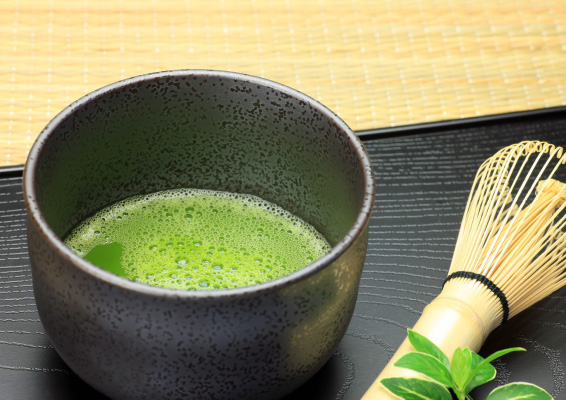 【高品質な狭山茶】
1868年創業の備前屋。狭山茶は地元の特産品です。備前屋は複数の生産工場を持ち、生茶を仕上げています。また、備前屋は独自の茶園も持っています。これにより、コスト削減と品質の向上が図られました。各種賞を受賞し丁寧な茶作りを進めています。
【High quality Sayama tea】
Bizenya was established in 1868. Sayama tea is a local specialty. Bizenya has several production plants to produce the fresh tea. Bizenya also has its own tea garden. This has allowed us to reduce costs and improve quality. The company has won various awards and is promoting careful tea production.


国内外での受賞歴のある狭⼭微発酵茶 琥珀
Sayama micro-fermented tea that has won awards at home and abroad Kohaku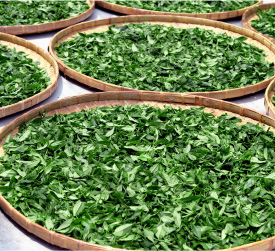 琥⽩を製茶する前の天⽇萎凋
Sun-drying Kohaku tea before it is made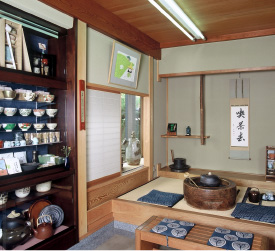 埼⽟県⽇⾼市にある店舗では茶道に関する道具も展⽰・販売している
The store in Hidaka City, Saitama Prefecture, also displays and sells tea ceremony-related tools.
PRODUCT⼀覧へ